The NAB show (National Association of Broadcasters show) is a global even with over 1700 exhibiting companies, highlighting the convergence of media, entertainment and technology.
ACME Video Solutions - a division under ACME Portable Machines, Inc. - will be exhibiting and debuting some exciting, new solutions for the media and broadcasting market.
Every year, during the NAB show, we introduce an innovative product to the market. As a result, just stop by our booth to take a look at our latest systems. Lets discuss potential projects and opportunities!
You can also register for free using our code LV7295 (expires 3/24/2019) or by clicking the button below: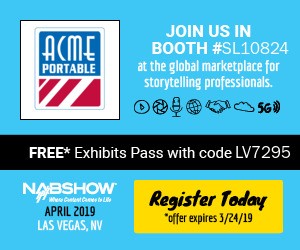 When: April 8th to April 11th, 2019
Location: Las Vegas Convention Center
Booth #: SL10824
Also, because of how popular our media-related computers have become, we have a dedicated site specifically for this department! Be sure to check it out at: http://acmevideosolutions.com